Eucharistic Adoration Chapel
Monday - Thurs: 2:00 p.m. - 9:00 p.m.
Friday: 2:00 p.m. - 7:00 p.m.
WHAT IF I AM UNABLE TO FULFILL MY COMMITTED HOUR?
We ask you to find your own substitute. All adorers will be provided a list of reliable substitutes. That list will also be in the folder in the chapel and posted on the side of the cabinet for reference. Asking someone from another day but the same hour to switch days with you is also a great option. You could also invite someone new to adoration to cover your hour. Inviting a new participant exposes more people to the blessings of Adoration. Be sure to instruct them on the reverent postures & procedures for Adoration.
If you have tried all of the substitutes on the list and still have been unable to find coverage, please contact the coordinator for your day who can discuss options. If you are unable to contact your coordinator, please call the adoration chapel coordinator: Cindy Robertson.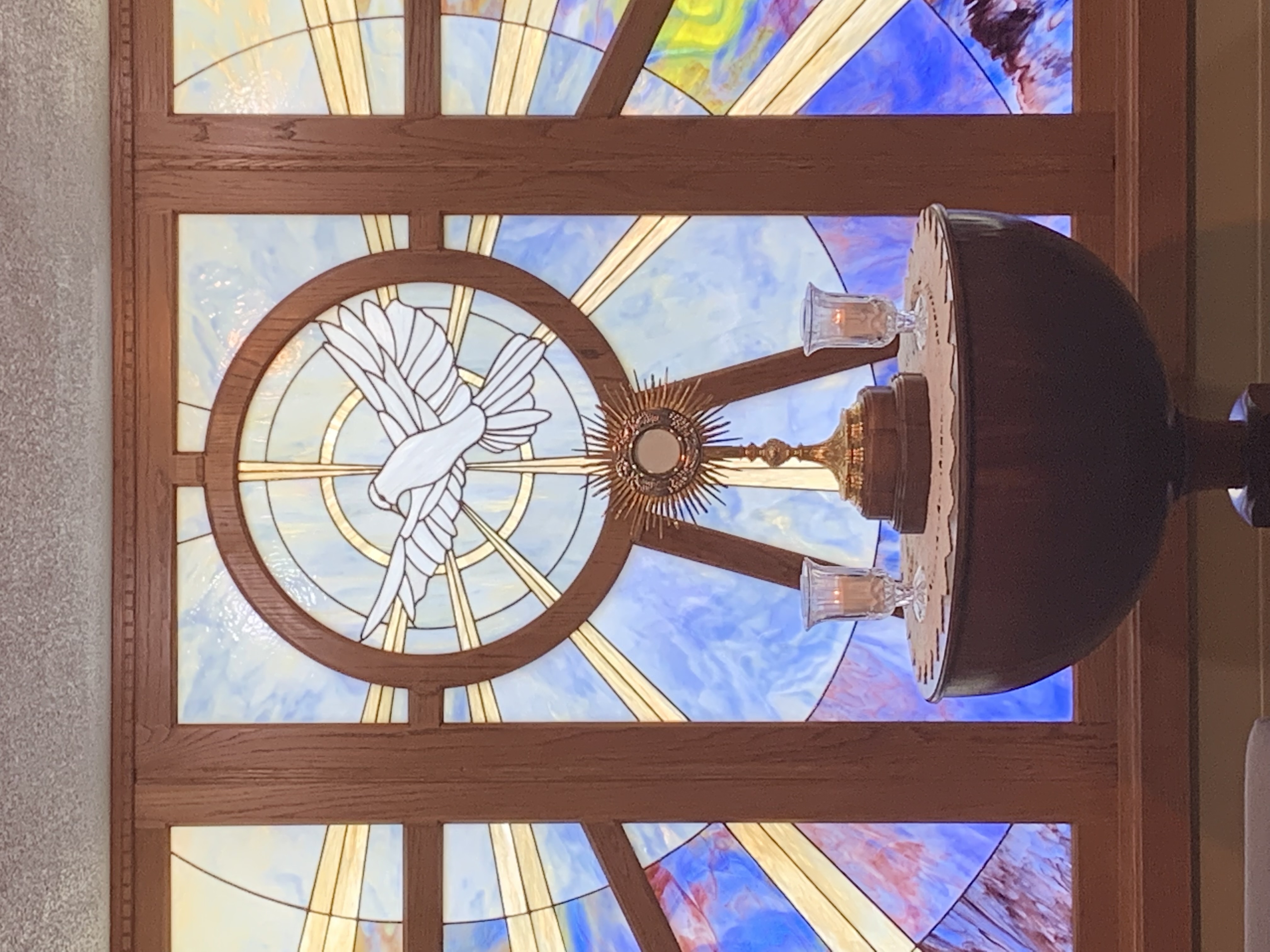 YOU ARE INVITED... COME SPEND ONE HOUR A WEEK IN EUCHARISTIC ADORATION
Eucharistic Adoration Chapel
Monday - Thurs 2:00 p.m. - 9:00 p.m.
Friday - 2:00 p.m. - 7:00 p.m.
"In a world where there is so much noise, so much bewilderment, there is a need for silent adoration of Jesus concealed in the Host. Be assiduous in the prayer of adoration and teach it to the faithful. It is a source of comfort and light, particularly to those who are suffering." "With the Synod Assembly, therefore, I heartily recommend to the Church's pastors and to the People of God the practice of Eucharistic Adoration, both individually and in community"
Pope Benedict XVI, February 22, 2007, Sacramentum Caritatis, Post-Synodal Apostolic Exhortation.
SIGN UP TO SPEND ONE HOUR EACH WEEK WITH JESUS IN THE EUCHARISTIC ADORATION CHAPEL OR TO SERVE AS A SUBSTITUTE. After signing up, our Adoration Chapel Coordinator, Cindy Robertson, will contact you to discuss and answer any of your questions. If you have questions before signing up, don't hesitate to contact Cindy or the church office.
WHAT IS "ADORATION" OF THE BLESSED SACRAMENT?
Adoration of the Blessed Sacrament is the contemplation and recognition of the Sacrament of the Real Presence of Christ under the sacred species of Bread and Wine outside the celebration of the Mass.
Adoration extends Eucharist into our life by setting aside time and opportunity to deepen and unfold the Mystery that we celebrate and live.
The consecrated Host is exposed in the Monstrance for the veneration of the faithful.
Eucharistic Adoration is a devotion in which parishioners commit to a specific day and time (one hour) every week.
WHY ADORATION OF THE BLESSED SACRAMENT?
To bring honor and glory to Our Lord through praise worship

To profess your faith and gratitude for His True Presence in the Eucharist

To deepen your prayer life and your personal relationship with Jesus Christ

To spend time listening to Our Lord to discover His will for your life

To be healed physically, spiritually and emotionally

To deepen His peace within you
All Praise to You, Jesus, in the Blessed Sacrament.
You are the hope of the world.
Each moment that you spend in His Eucharistic Presence will increase His Divine Life within you and deepen your personal relationship with Him.
I have come that you may have life, and have it more abundantly. ~ John 15:5
I am the Vine and you are the branches. Whoever remains in union with Me shall bear much fruit for without Me, you can do nothing. ~ John 10:10
When you look upon the Sacred Host, you look upon Jesus, the Son of God. Indeed, this is the will of my Father, that everyone who looks upon the Son and believes in Him shall have eternal life. Him I will raise up on the last day. ~ John 6:40